INDIA's DGCA approved multipurpose advanced DRONE
Nova AGRIBOT is an Agricultural Drone used mainly for
the spraying of agricultural chemicals – which is a boon for farmers.
Our drones are named as Agribot. This drone technology is developed to cater to the farmers and reduce their burden. Drones can help farmers to optimize the use of inputs (seed, fertilizers, water), to react more quickly to threats (weeds, pests, fungi), to save time crop scouting (validate treatment/actions taken), to improve variable-rate prescriptions in real time and estimate yield from a field. This is the DGCA approved drone for the purpose of the agri sector. This drone
will allow a farmer to spray any sort of soil health management, crop nutrition and crop protection products over an area one acre of land in six minutes, thus reducing the time of spraying such products and also making the process much easier.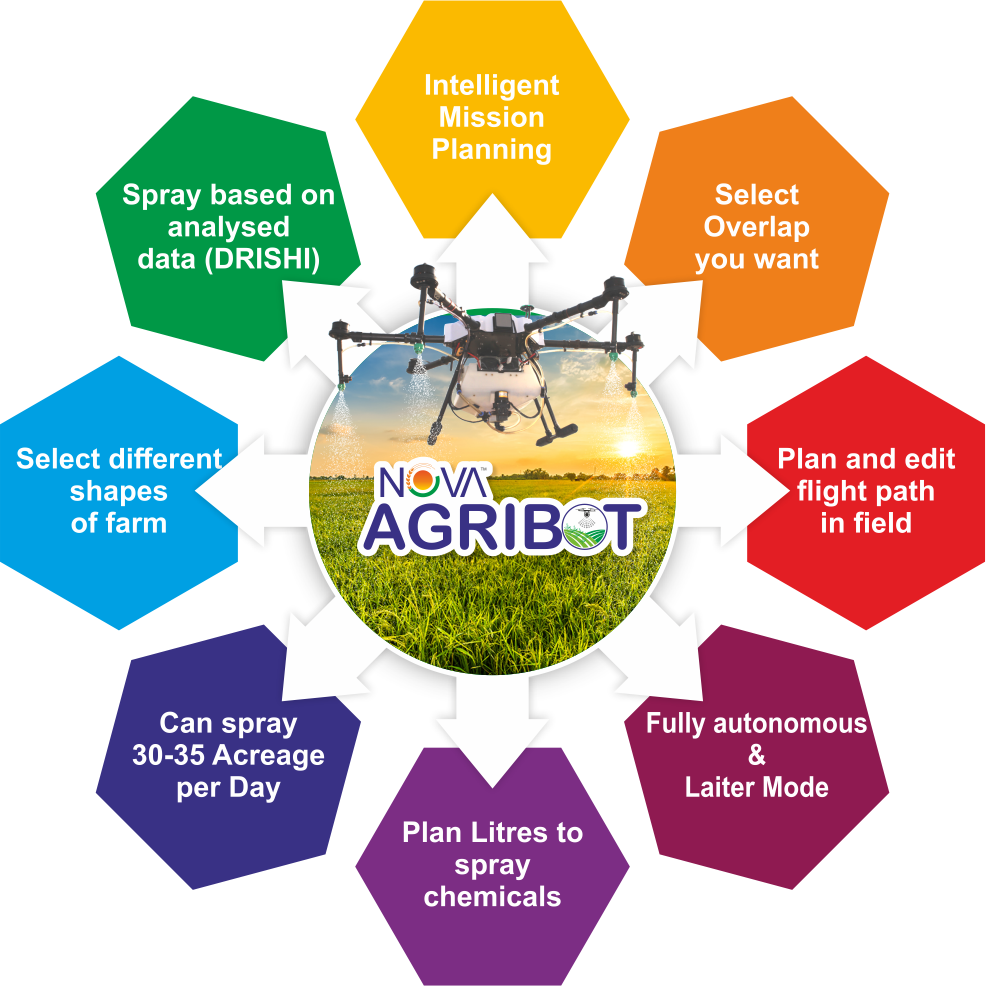 Cost Saving for farmers
Time saving
Useful in labour unavailable area
Helps farmers in protect them from chemical exposure.
Completes spraying 1 acre in 5-10 minutess; 30-35 Acreage/Day
Very useful in remote areas
Reduce usage of chemical wastes
Correct placement of chemical
Specifications of NOVA AGRIBOT
Agribot approved by DGCA
Tested by IARI, MOA, PAU, HAV & other institutions.
Mainly for spraying — Fungicides, Pesticides, Herbicides, Plant Growth Regulators.
Multiple spectral sensors — to monitor crop health
Autonomous flying mode
Can Spray 30-35 Acreage / day
Smart batter with automation
Collision avoidance & uniform spray across the canopy
Resume mission automatically
Good landing accuracy
Geo-fencing & RGB camera for monitoring
Single and Dual GPS accuracy
Mill grade components.
DGCA compliances: UIN / FTO pilot license and 3rd Party insurance available.
For any Trade Enquiries – Please Contact
+91-8121007898 / +91-7899256077