New Technologies
Agribot Drones and Bhuparikshak
We understand that it is very important to make our farmers aware of the cutting-edge technology and also make them selfsufficient to be able to use such technologies for their benefit. With the advent and the introduction of new and modern technologies, it is imperative that the correct education and training needs to be passed on to the farmers regarding its usage, handling and benefits. Two of our state of the art products 'Bhuparikshak' and 'Agribot' require appropriate training and knowledge to handle and understanding its mechanism and benefits. As a part of our mission to ensure that the farmers at the grass root level be competent and capable of handling these technologies and derive the best results out of them, it is imperative that we provide them with the right training regarding the operations and handling of these products. We intend to set up training centres to impart training to farmers on how to operate and handle 'Bhuparikshak' and 'Agribot', thus making them competent and self-sufficient. This will ensure that the farmers are able to utilise the products to its optimum level without the assistance of any third party and get the best desired results out of the same.
Our new technologies segment includes Agribot Drones and Bhuparikshak.
INDIA's DGCA approved multipurpose advanced DRONE
Nova AGRIBOT is an Agricultural Drone used mainly for
the spraying of agricultural chemicals – which is a boon for farmers.
Our drones are named as Agribot. This drone technology is developed to cater to the farmers and reduce their burden. Drones can help farmers to optimize the use of inputs (seed, fertilizers, water), to react more quickly to threats (weeds, pests, fungi), to save time crop scouting (validate treatment/actions taken), to improve variable-rate prescriptions in real time and estimate yield from a field. This is the DGCA approved drone for the purpose of the agri sector. This drone
will allow a farmer to spray any sort of soil health management, crop nutrition and crop protection products over an area one acre of land in six minutes, thus reducing the time of spraying such products and also making the process much easier.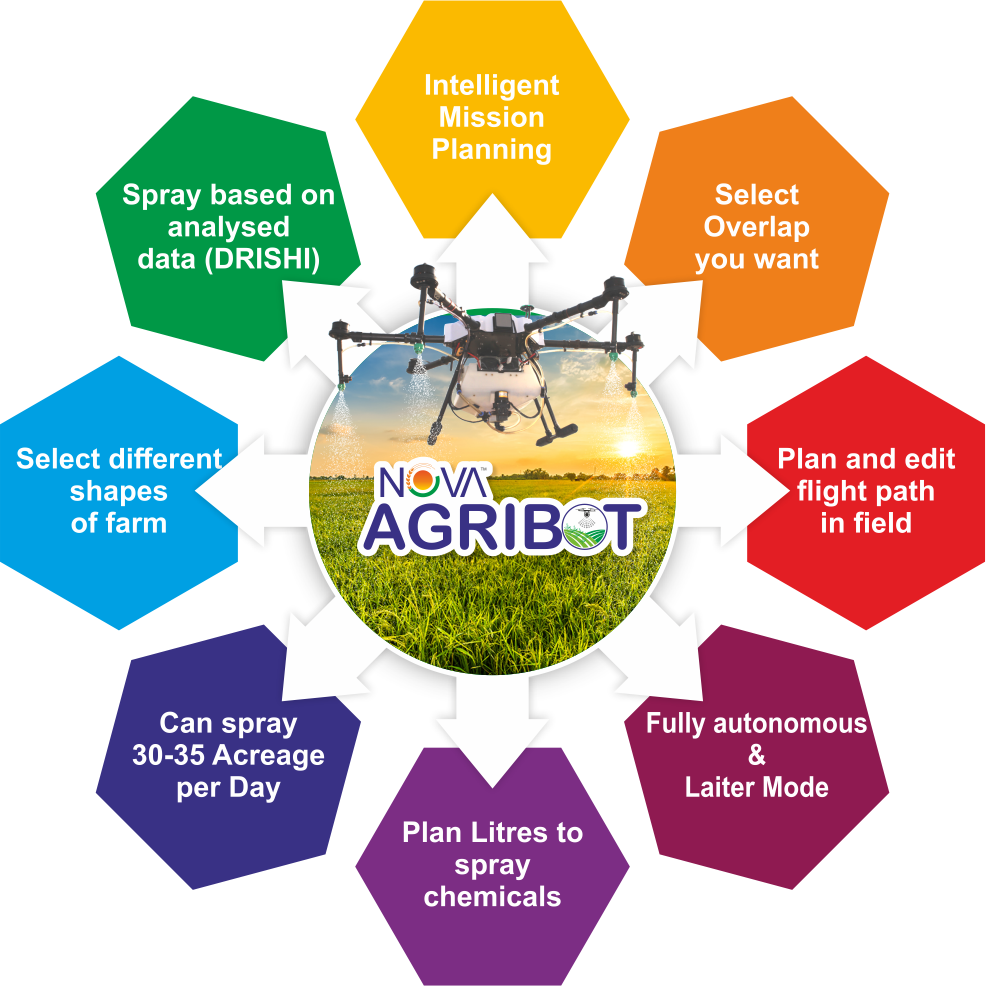 Cost Saving for farmers
Time saving
Useful in labour unavailable area
Helps farmers in protect them from chemical exposure.
Completes spraying 1 acre in 5-10 minutess; 30-35 Acreage/Day
Very useful in remote areas
Reduce usage of chemical wastes
Correct placement of chemical
Specifications of NOVA AGRIBOT
Agribot approved by DGCA
Tested by IARI, MOA, PAU, HAV & other institutions.
Mainly for spraying — Fungicides, Pesticides, Herbicides, Plant Growth Regulators.
Multiple spectral sensors — to monitor crop health
Autonomous flying mode
Can Spray 30-35 Acreage / day
Smart batter with automation
Collision avoidance & uniform spray across the canopy
Resume mission automatically
Good landing accuracy
Geo-fencing & RGB camera for monitoring
Single and Dual GPS accuracy
Mill grade components.
DGCA compliances: UIN / FTO pilot license and 3rd Party insurance available.
For any Trade Enquiries – Please Contact
+91-8121007898 / +91-7899256077
Bhu Parikshak
Soil Testing Device
To determine the nutrients, present in the soil, a rapid soil testing device based on IoT technology is used called Bhu-Parikshak. It helps in detecting the deficiency of nutrients in soil and then usage of correct fertilizers to increase efficiency. These devices are portable in nature, provides result instantly on the smartphone and are highly affordable with one of the highest testing capacities. It is a very low power consuming device having battery backup which can analyse 120 soil samples in a single charge. Furthermore, the predicted life of the device is 5 years and is capable of analyzing 1 million samples.
Bhuparikshak is first-of-its-kind novel device is capable of detecting soil health in just 90 seconds through an embedded mobile application. It would assist individual farmers in obtaining soil health parameters of agricultural fields with recommended dose of fertilizers without having to go to a laboratory. The device is based on Near Infrared Spectroscopy technology that provides real-time soil analysis reports on smartphones with an embedded mobile application named Bhuparikshak available on Google Play Store. It also maintains farmer land data to keep track for future developments.
Some of the advantages of the device are:

1. Instant soil pictogram of the mentioned parameters
2. Mapped field data availability in cloud storage for soil health and nutrient demand analysis
3. Recommendation for precise nutrient requirement



For any Trade Enquiries – Please Contact
+91-8121007898 / +91-7899256077